Social Event in Bad Herrenalb
Steam engine train trip to Bad Herrenalb in the Black Forrest on Thursday, October 16th, 2008
Please note: This information including additional maps will also be available in an information leaflet.
Schedule

15:00 Departure at the conference venue

15:10 Buses leave near the Schloss Karlsruhe from the "Schlossbezirk" street (see below; signs will lead you there from the venue).

15:50 Departure of the steam engine train in Ettlingen

17:00 Arrival in Bad Herrenalb train station. Exploring Bad Herrenalb. See below for details on walks. Walks will start immediately after arrival.

18:00 Meeting at the Kurhaus for the Conference Dinner

20:45 Heading back to the Bad Herrenalb train station

21:10 Steam engine train departs back to Ettlingen

22:00 Arrival in Ettlingen. You can either take our bus back to Karlsruhe, or stay in picturesque. Ettlingen a little longer and take a tram back (see below).
Location of departure / arrival in Karlsruhe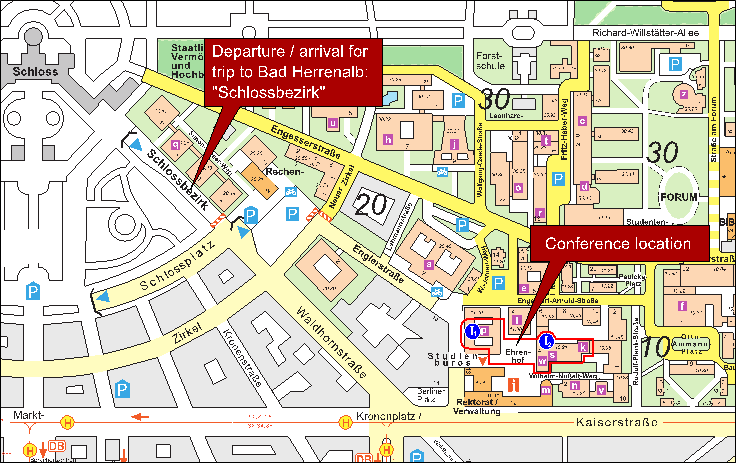 Bad Herrenalb
There are three options for guided trips, starting at the train station in Bad Herrenalb. Meeting point at the train station in Bad Herrenalb: Umbrella with the indicated colour.


Falkenstein trail: "Sporty" hike to rock Falkenstein. View from the top on the Bad Herrenalb.
1 hour; 73 m difference in altitude; sturdy shoes recommended
Walk to the old abbey ruin and church. Get to know the historic part of Bad Herrenalb.
1 hour
Short path to the conference dinner location ("Kurhaus"). Have a coffee (not covered by the social event fee)
10 minutes walk
All trips will end in the "Kurhaus" where the conference dinner takes place.
Ettlingen
...for explorers who do not take the bus back to Karlsruhe

Note: You will get a city map of Ettlingen at the conference.


Train timetable
The steam train terminates at "Ettlingen Stadtbahnhof" (also announced "Ettlingen Stadt"). After a walk, take light rail trains (trams), line S1 or S11, which leave "Ettlingen Stadtbahnhof" towards Karlsruhe (signed "Hochstetten" or "Neureut Kirchfeld") at 22:28, 22:48, 23:08, 23:28, 23:48, 00:18, and the final one at 00:48.


Further details
The 24h-ticket "Citykarte" is valid for the trip from Ettlingen to Karlsruhe (there is a 5-persons-variant of it as well). For single-ride tickets, you'll need to pay for 3 zones, which is 2,50 EUR. There are ticket-vending machines at the station.
The best stop to get off in Karlsruhe is Karlsruhe Marktplatz, right next to the pyramide. A tram line chart is inside the tram, stations are announced.
"Ettlingen Erbprinz" stop is closer to the Ettlingen's castle than "Ettlingen Stadt"
If needed, a taxi stand is near "Ettlingen Stadtbahnhof" - ask for the fare! Taxis can be called at +49-(0)7243-77888, +49-(0)7243-78588, or the indicated number.